---
this and that

TRUSTING NOTHING: HAVING NO PURPOSE ON PURPOSE
HuffingtonPostBooks: 01/12/2015
I'm a fan of being bored, of daydreaming, of letting my mind wander. I'm a believer in doing nothing. Being bored gets a bad name. Being bored is not the same as finding something boring. It's not the same as being boring. Or affecting a snobbish boorish bored demeanor. And certainly not anything like cultivating an air of ennui. That takes too much effort.
---

EVERYTHING LOOKS BETTER FRM A DISTANCE
014-12-05
Issue 7
Elan Barnehama
fiction
Route9LitMag.com
(excerpted from my novel-in-search-of-an-agent Escape Route)
"It can be a beautiful world. I'm quite capable of deluding myself about that. But they killed Robert Kennedy. They murdered Martin Luther King. Newark is burning. Watts is on fire. Chicago looks like Montgomery. Johnson abandoned his War on Poverty, sold out his dream of a Great Society to pay for destroying Vietnam and sending American boys to die in the jungle and now we're going to get Nixon as a reward. But, sure, I can find beauty in the night sky because everything looks better from a distance."
---

ANN LEWIS HAMILTON'S DEBUT NOVEL "EXPECTING" IS FERTILE AND FUNNY
HuffingtonPostBooks
November 14, 2014
At the center of Ann Lewis Hamilton's debut novel,
Expecting
, is the serious issue of infertility. Surrounding this seriousness, Hamilton skillfully layers funny, slightly absurd, completely plausible events that create a twisted modern tale of family.
---

MAKING OUR VETERANS VISIBLE

HuffingtonPostPolitics November 5, 2014
What happens to the men and women in uniform is all of our responsibility. They go where they are asked (told really), sent by leaders we elect and funded by dollars we contribute. Even if we are wary of their missions, even if we oppose their drain on our national budget, we must never avoid them.
---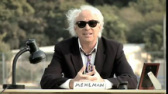 SEINFELD WRITER PETER MEHLMAN PENS DEBUT NOVEL
HuffingtonPostBooks August 29, 2014
I met Peter Mehlman, known for his work as a writer and executive producer of the
Seinfeld
show, at a Santa Monica coffee shop to talk about writing, being funny, and his debut novel,
It Won't Always Be This Great
(September 2014, Bancroft Press).
---

A RECIPE FOR LOVE | AUTHOR SPOTLIGHT: RENEE SWINDLE"

HuffingtonPost Books
August 20, 2014
In Renee Swindle's breezy third novel,
A Pinch of Oooh La La
(August 5th/ Penguin-Random House) narrator Abbey Lincoln Ross, discovers that her artist boyfriend is having multiple affairs while watching a documentary about him at a film festival. After suffering this spectacular public humiliation, Abbey pours all of all her energy into her Oakland bakery.
The novel, though, is never bitter.
A Pinch of Oooh La La
is full of sweets and treats and a band of folks , ,
---
• "TALES OF A WRITER: RICHARD KRAMER"
Huffington Post Books
July 29, 2014
I sat down with Richard Kramer, the Emmy and multiple Peabody award-winning writer, in his North Hollywood home to talk about writing his intimate debut novel,
These Things Happen.
What makes this novel stunning is the disarmingly raw manner in which the unpleasantness is dealt with and the trustworthiness of each narrative voice.
---
THE BIOLOGY OF LUCK, An interview with Jacob AppelHuffingtonPostBooks,
July 9, 2014
Jacob M. Appel is the author of the novels,
The Man Who Wouldn't Stand Up
, and
The Biology of Luck
(2013).
His recent publications are
Phoning Home (
May 2014), a collection of essays informed by his advanced degrees in medicine, law, and ethics, and a story collection,
Scouting for the Reaper
(February 2014), which won the Hudson Prize.
---
• "Trading Stuff for Knowledge: How Trade School LA Wants to Change Community Learning," Huffington PostLast February, a short time after I traded New England winter for Los Angeles winter, I responded to a posting by Trade School LA (TSLA) seeking teachers willing to offer classes for barter by offering to teach a writing workshop on Flash Fiction. Trade School LA is part of an international network of 50 self-organized barter for knowledge chapters. But I didn't really get it until . . .
---

• "Passing Over in Los Angeles," Huffington PostThis year for Pesach, for Passover, I find myself in Southern California for the retelling of an Exodus story that celebrates renewal, promotes the do over, praises reinvention. In my travels around the cities near dessert and along the water's edge I have found so many people who came to this land seeking . . .
---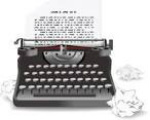 • "Why You Should Write What You Don't Know," WritersDigest.com
I wrote a novel whose two main characters are lesbians. This confuses some people because I am not a lesbian. Because I am also not a woman. And because I am not gay.
When I set out to write my novel,
Finding Bluefield
, I did not expect my main character to be a woman, much less for that woman to fall in love with another woman. But there I was, a straight man hooked by these two characters, Nicky and Barbara, and their voices, and the story they wanted me to tell . . .
---
• "Snowless Shaken and Stirred in SoCal," Huffington Post, March 24, 2014
• "Can't Get Rid of These Guys" Huffington Post, December 18 2013
• "Reflecting on George Harrison's Death: A Visit to Ground Zero During Thanksgiving 2001," Huffington Post, November 26, 2013
• "Slow and Messy Change," Huffington Post, July 29, 2013
• "Surviving New York Mets Dream Week," Huffington Post, July 17, 2013
• "With a Little Help From Strangers," Huffington Post, June 13, 2013• "Author Q&A: Elan Barnehama, 'Finding Bluefield'" with Debra Eckerling,
WriteOnOnline.com
, April 30, 2013• Listen to my interview on Breakfast with Books hosted by Cyrus Webb. Listen here
• "Losing My Funny," Huffington Post, April 10, 2013 • Listen to my interview on PeopleYouShouldKnow hosted by David-Matthew Barnes
• "Embracing Change: Writing the 1960's," ReadingThePast.com March 15, 2013

---
---
---
---

READ AND EXCERPT HERESOME REVIEWSAs a 1st book it is not only really good but above all different. I have liked the particular style, so different from the usual. The fact that the chapters where so long and that any of them have the attention put in one clear direction is interesting. This book is different and bold in a unique way. Rainbow Book Awards

Barnehama's characters are a sympathetic and roundly likeable bunch. He makes easy heroes of those who face, and gracefully route, general prejudices. . . . Finding Bluefield nonetheless makes affecting arguments for work toward a more just world. An agreeable and earnest novel which highlights the innate humanity of the families which society sometimes forgets to honor. --ForeWord Reviews
Novelist Elan Barnehama's latest book Finding Bluefield tells the story of lesbian love set amidst the politics of the 1960. SheWired.com

Virginia is for lesbian lovers in this 1960's period romance. A doctor from New York and a roadside diner waitress fall in love— and make one of the cutest couples I've met all year. Their courtship involves jumping into a convertible, making love, eating pies... can I join them, please? --Susie Bright, The Bright List on Audible

The genius of this book is that it all comes very low key packed into the personal lives of Barbara, Nicky and Paul. The characters are wonderful and very likeable and the author never ever stands on a soapbox, but lets the issues quietly soak into the very fabric of the story. This is one of these rare books where every word and every sentence counts and where the story is flowing effortlessly. Kudos to Elan Barnehama. --Philologus

Many readers (and more likely critics) will ask the all-too obvious question: can a male author fully convey the female experience? Certainly the same was questioned of Wally Lamb when he penned the literary masterpiece She's Come Undone. Like Lamb, Barnehama takes many risks and – just by simply writing the novel – challenges the very audience he's writing for. By doing so, he is again reminding readers and critics alike that the sole purpose of a great writer is to tell the best story possible. In Finding Bluefield, Barnehama achieves this, leaving his readers with a well-crafted epic saga about two women who are searching for a world in which their love can survive. David-Matthew Barnes, Lambda LiteraryCLICK HERE FOR MORE REVIEWS

---

---

---

About Finding Bluefield

When Barbara Phillips arrives in Bluefield, Virginia, to begin her medical residency, she thinks she is headed for an uneventful few years filled with work in an obscure little town where no one knows her--which is exactly what she wants.

Everything changes when she enters Nicky's diner and begins a journey that will last a lifetime as she falls in love against her better judgment and best-laid plans.

The free-spirited Nicky later attends the 1963 March on Washington and impulsively and anonymously sleeps with a man in hopes of getting pregnant and starting a family with Barbara. When Nicky gives birth to Paul, her sister steps in to adopt Paul for his own "protection" causing Nicky, Barbara, and Paul escape Bluefield and make a new life in upstate New York,

Finding Bluefield is the story of Nicky and Barbara's search for love and family during a time when relationships like theirs were mostly hidden and often dangerous.

READ AN EXCERPT HERE

---

---

about elan


Writer, teacher. Commenter on this and that. Chronically curious. Noisy brain. Loiterer. Dawdler. I brake for art. New Yorker by default. Tortured Mets fan by geography. SoCal immigrant by choice.

Funny is always right. Rock and roll always makes sense.

I've taught writing and literature at several colleges, led community based writing workshops, worked with risk youth, was the writer for a university president, and a writer for a different university, coached varsity baseball, had a gig a radio news guy, and did a lousy job as a short order cook.

I'm glad we had this talk.




---

---

---

---

---

COMING soon: my
novel-in-progress


My new novel that takes place in NYC at the close of the 1960's. The novel follows Zach, the son of holocaust survivors, who becomes obsessed with finding an escape route for his family for when the US starts rounding up its Jews. At the same time, he and his life-long best friend Jonah navigate high school, sex, drugs, baseball, and their friendship, against a backdrop of the Vietnam War and its impending draft lottery.


---
---